Director:
Roland Joffé
Writer:
Bruce Robinson
Composer:
Mike Oldfield & David Bedford
AFI Rank:
-
BFI Rank:
100
91%
The Killing Fields would be an exceptional movie for any Director. The fact that it was Roland Joffé's first makes it astonishing. He would follow it up in 1986 with the equally outstanding The Mission. He would later say that although he loved making them they were somewhat of an albatross around his neck. He was nominated for an Oscar, Directors Guild Award, BAFTA and a Golden Globe but took home none of them. There was some pretty stiff competition in Amadeus and Paris, Texas.
My aim in documenting my viewing of these critically acclaimed movies is not to review them but to hopefully persuade you to see them. I also personally believe there is nothing better than seeing a movie when you know absolutely nothing about it. No critical plot revealing trailers. This is especially hard for a film based on a true story, especially one so news worthy. If you are young enough that shouldn't be an issue here.
The screenplay itself was based on Sydney Schanberg's New York Times articles and he
was awarded the Pulitzer Prize for his coverage of the fall of Cambodia to the Khmer Rouge in 1975. Those works and more were recently collected in a single volume, Beyond The Killing Fields. Bruce Robinson's next project was to write and direct Withnail & I, but more on that in another review.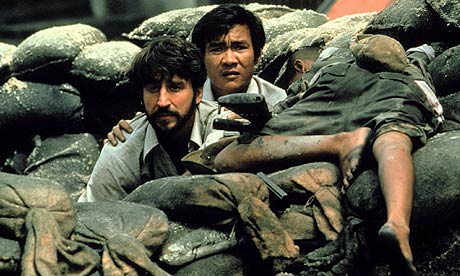 Sam Waterston and Haing S. Ngor
Sam Waterston portrays Sydney with an incredible nervous energy that keeps up the tension throughout what could have easily become a very long and tedious movie. But the real standout is Haing S. Ngor as Dith Pran. A Cambodian and doctor turned actor, this was his first ever role and with it he became only the second non-professional actor and the first southeast asian to win an Oscar.
The Killing Fields is a british film, ranked 100 in the BFI's top 100 and not making either of the AFI's lists. Perhaps that is the only way this truly American story could really be told.
I was initially worried that the film had dated badly, especially during the opening with Mike Oldfield's synthesized soundtrack playing underneath but I needn't have worried. David Bedford's orchestration as the picture progresses helps keep The Killing Fields somewhat timeless, a rare achievement for many films of the 1980s. The only exception being the use of John Lennon's Imagine at the film's climax which very nearly descends into Hallmark Channel territory. That decision was named the lowest point of the year in Time Magazine's Cultural Highs and Lows of the Year.
Chris Menges cinematography is breathtaking and rightly earned him an Oscar. The sunset scene that graces the original poster is in itself worth the award. He had just come off of Local Hero and would join Roland on The Mission.
The film clocks in at potentially boredom inducing 141 minutes but the script defies that with a superb structure broken into acts that at times feel almost like separate movies. This is a film to be savored and deserves your full concentration. Put down the iPad or laptop.
At the time of writing The Killing Fields is only available on DVD in the UK and US. There is a Dutch Blu-ray available but it is not remastered and is poorly reviewed. I watched the film via Netflix streaming in HD. There was some noticeable artifacts which may have been caused by streaming rather than in the source, and without seeing the DVD I cannot recommend which is the better one to see. It is also available via Amazon On Demand. Ideally put the Blu-ray on your Amazon wishlist and wait for its inevitable release.
27 years later this is still a must see film, maybe even more so today for a new generation of viewers for whom the phrase "The Killing Fields" has no meaning.